Blog
Voice Talent Online's Top 10 Animated Characters with American Voiceovers
1. Betty Boop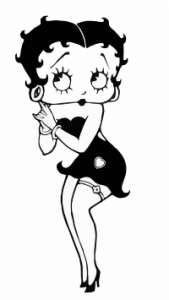 A cultural icon from the 1930s and still widely recognisable nearly 90 years after her original appearance Betty Boop is certainly worth a mention.
But what do we know about this animated fashion icon?
Although Betty Boop's American voiceover was provided by numerous individuals, arguably the most recognisable is the voice of Mae Questel. As well as providing the voice of Betty Boop, Questel was also the voice artist behind Olive Oil. Clearly the voiceover behind Betty Boop was fantastic, but who was the inspiration for this globally renowned character?
Betty Boop was supposedly inspired by Helen Kane – the 'It girl' of the decade. But there is a lot of controversy surrounding that assumption! Many Boop fans may not know that though creator Max Fleisher was trying to base the character of Betty on Kane – Kane herself was seemingly a copy-cat icon of 1920s jazz singer Esther Jones!
Regardless of her origins- Betty Boop became one of the most recognisable animations of 1930s and is still known to younger generations.
2. Woody Woodpecker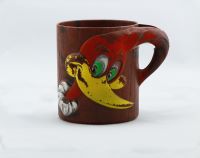 A character perhaps known most widely for his infectious (or incredibly annoying) laugh, Woody is certainly a great example of American voiceovers.
Although Walter Lantz is the man behind the creation of the character of Woody Woodpecker, we can all agree that the most credit should be given to the woman behind the voiceover! More specifically – Walter Lantz' wife, Gracie Lantz.
So why is Woody so brilliantly annoying? Well the answer is simple really! Lantz based the character on an extremely annoying woodpecker which managed to ruin their honeymoon. But by creating a character based on the said bird, Lantz has essentially sealed that bird's fame and cemented its position in history.
So not to gloat but… Heh-heh-heh-HEHHHH-heh! Woody got the better of the Lantz's!
3. Homer Simpson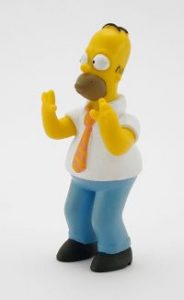 A global icon in his own sense, Homer Simpson has certainly earned his place among animated stars.
Dan Castellaneta is the man behind doh-nut eating, blue pants and white shirt wearing, son-strangling character that we all know as Homer Simpson. However, Castellaneta's talents are not confined simply the role of Homer! He provides American Voice Talent for numerous Simpsons characters, from Grandpa Simpson to Groundskeeper Willie and many more.
Truly it would seem that Dan is the man of a thousand voices!
4. Mighty Mouse
Small in size – mighty in deeds!
For those of us who have an appreciation for classic American animation- Mighty mouse is mightier than most! Mighty Mouse was originally voiced by record producer Roy Halee – the record producer known for the launch of Simon and Garfunkel, the popular singing duo. Halee surely did prove that he was a force to be reckoned with after all!
5. Family Guy
Perhaps this animation is enjoyed more by adult and adolescents than children, but it's made its impact all the same!
Seth MacFarlane is the genius creator and voice artist behind the 'typical' American Family Guy who has come to be known and loved by many, despite its blatant outrageousness.
But regardless of whether you think that the Family Guy is offensive or funny – with a net worth of $2 billion- MacFarlane certainly knows his business better than we do.
6. Bugs Bunny
Perhaps one of the best-known looney toons, this cheeky chappy knew how to entertain. With his catchphrase 'What's up Doc?' becoming well known from the 1940s onwards. But with Bugs now having surpassed his 80th Birthday, how popular could he really be?
From fooling hunters to impersonating Hitler – Bugs Bunny has done it all! With Bugs receiving a renewed lease of life in 1996 film Space Jam, Bugs has endured and made his mark on both Baby Boomers and the Millennial generation alike.
7. Mickey Mouse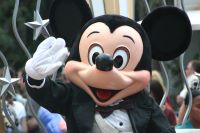 Perhaps one of Walt Disney's best creations – Mickey Mouse has retained his popularity throughout the years. So much so that even fashion houses such as Gucci began selling Mickey shaped handbags for $4500! What's more, in 2004 Mickey Mouse actually made it to Forbes list of 'fictional Billionaires'!
But why has the character performed so well? Perhaps it's because of the brilliant American Voiceover artist Wayne Allwine?
8. Popeye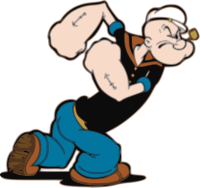 The Sailor with the super-powerful spinach. But did you know that Popeye is actually based on a real person? Popeye is in fact rumoured to be based on a one eyed man named Frank 'Rocky' Fiegal from Illinois.
Regardless of his origins, the character of Popeye gained great repute and was voiced by many Americans – from Jack Mercer to Bill Costello – who all managed to provide the perfect gruff voice for Popeye the Sailor.
9. & 10. Rocky and Bullwinkle
Though Rocky and Bullwinkle are animated characters within the same animation- they deserve recognition of their own accord.
Rocky and Bullwinkle were voiced by American voice talents June Foray and Bill Scott and became a children's television favourite between 1959 and 1964 with re-runs last airing in 1973. But what was so great about this now classic cartoon?
Though simple in style, Rocky and Bullwinkle actually provided some well need satirical comedy for a generation faced with the Cold War. Perhaps in an era where animations are far less political, we need to take a moment to appreciate the creators of this classic American animation.
So regardless of whether you are an animation novice or pro, or simply want to appreciate the range of American animations spanning through the decades- one thing's for sure. Great American voiceovers and American voice talent make a huge impact. So, get in contact to see how we can help make a big impact for your business.