Our Facilities
Our international voice over agency is headquartered in Kent, England, from where we are proud to serve companies from Tokyo to Barcelona, to San Francisco, at times which work for them!
Industry-leading facilities
Looking for a professional voice over recording studio with great facilities? We're not just an online service.  Voice Talent Online's operations hub in Kent, UK has the following facilities on-site:
• Top-of-the-range voice recording studio
• Audio & video edit suites
• Light and modern open-plan space
• Room to relax
• COVID precautions
Voice recording studio
A high-end, custom-built recording booth – Our recording booth has been purpose built to match our client's specific needs and has been approved and recognised for use by world class companies. Moreover, it is situated inside a secondary, insulated recording room, adding even further sound proofing, it is one of the quietest places available to record your next project.
Neumann U87 microphone – The Neumann U87 microphone is a top of the range industry standard microphone, specifcally one of the best-known studio microphones the world over.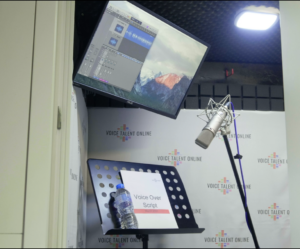 In-booth monitor – Our recording booth contains a ceiling-mounted, large, wide-screen, adjustable monitor screen.  Therefore, it enables the recording artist to simultaneously view video footage, greatly aiding audio synchronization and – subject to talent preference – makes a great autocue.
Directing remotely – Our studio is perfectly located for London-based talent and directors. But if you would rather not travel, there's no need. Direct your voice over artist remotely – as if in person – via Microsoft Teams, Zoom, Skype, or phone patch – or something else. Whatever the client preference!
Audio & video edit suites
On-site team
We have a friendly, professional crew with lots of real-life studio expertise on-site, who will do all the recording, editing, file splitting, and quality assurance checks on your behalf. Meet the team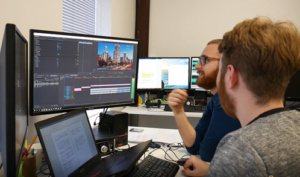 Light and modern open-plan space
Having outgrown our previous location, we relocated in March 2020 to our new, modern facilities.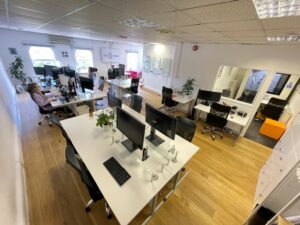 Likewise, light, comfortable, surrounded by greenery, and very well ventilated. It provides the perfect back-drop to the world-class audio-video production services we provide.
While the open-plan space aid with a seamless workflow between teams, it also enables us to provide more efficient service to our clients.
Room to relax
Last but not least, we offer free chilled drinks and a nice, comfortable chill-out area! So directors and talent alike can enjoy visiting our site and relax between takes!
VTO are always easy to work with. They communicate clearly, support throughout the process and deliver high quality audio every time!
Very fast response, good quality voice-over plus great service and follow up! Nice people to work with 🙂
I have worked with Voice Talent Online on several projects now and have been extremely happy with the quality of service and value provided. They offer a fantastic selection of voiceover talent to suit any project and are always extremely responsive to any questions I have.
I have used Voice Talent Online for corporate and explainer videos on a number of occasions and can highly recommend. The pricing is very reasonable, service is always fast and to the highest standard and the audios are always excellent. Wouldn't go anywhere else!
Great service, fast turnarounds. Always a pleasure to work with the team at Voice Talent Online.