Blog
Professional voice talent can add emotion to your marketing script
With attention spans dwindling, marketers are facing a growing challenge when it comes to holding the interest of their target audience. We've previously discussed the benefits of using voice over for video marketing and other content, but what qualities do brands actually need from professional voice talent to make their content stand out?
Dropping attention spans of online audiences
Research by Microsoft found that people now have an average attention span of 8 seconds, dropping from 12 seconds to a level 'worse than a goldfish'… troubling news for any marketer.
Not only does the internet give people more choice than ever before when looking for products or services. Smartphones and social media have brought a whole host of distractions into our everyday life, pulling people's focus in multiple directions.
When you check your email or social media it causes the release of dopamine, the feel-good neurotransmitter, clinical psychologist Dr. Jessamy Hibberd explains. Dopamine is stimulated by unpredictability. As a result, marketers have to work harder than ever to capture and hold the attention of their audience, especially when it comes to online channels.
Consumers are constantly connected and literally have the power to make or break a brand at their fingertips, Raja Rajamannar, Chief Marketing and Communications Officer of Mastercard, explained at his recent seminar at Advertising Week.
So how can they stand out from market competitors and connect with their clientele?
Conversational marketing could be the answer
The pace of technology and information exchange only continues to speed up, Rajamannar explained. Consumers only allow brands a few mere moments to make or break a relationship.
There are over 600 million devices running ad block software… the message from consumers is clear: Stop interrupting me – I don't want to see your ads.
However, as interruptive marketing continues to lose its effect, emotive marketing is going from strength to strength.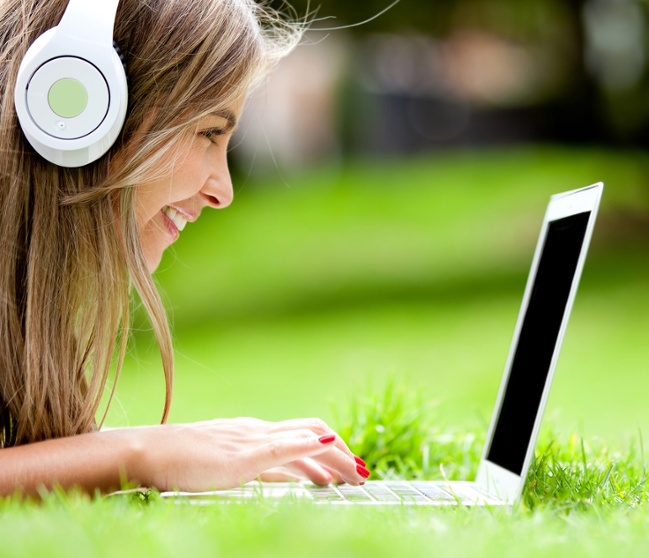 The storytelling trend is now a key part of the marketing landscape. Just consider all the Christmas ads recently released by every supermarket and department store. In the UK for example, Debenhams, John Lewis, Marks & Spencer, and even Boots have been recognised for their emotionally-charged and engaging adverts specially created for the festive season. It's no huge surprise. With so much choice of content and the freedom to browse, few people are prepared to stick around and pay attention to uninspired marketing. Especially for digital natives, turning off irrelevant content has become second nature.
There's no time for stilted sales scripts – brands need to make their messaging standout.
How professional voice talent can transform your marketing
However, there's a difference between a 'real' conversation and conversational marketing. As a result, professional voice talent can face a challenging task. Artists must interpret the script they're given to embody the brand persona and grab the listener's interest. With only 8 seconds to catch their attention too, there's no time to waste.
Emotion, volume, pitch, pace, and enunciation can all make a marketing script. Never mind speaking the right language, the little things make the impact.
We've previously discussed how regional voice talent can help to strengthen a brand's message, although it's not always as simple as matching it to your audience demographic. In fact, research has found that some communities respond positively to hearing their own dialect in commercials, while others are more likely to switch off.
Considering all these complex factors, then, where do you start when finding the perfect voice talent?
A consultative approach to professional voice talent
The first step is to research audience demographics. Once a brand has identified current and prospective customers, it's time to find the perfect voice.
Voice Talent Online provides a consultative service, matching professional voice talent to individual client needs. With years of experience, we can suggest the ideal voices to represent your brand.
We work with a global network of more than 1,500 artists who are native speakers of more than 75 different languages. Clients can even listen to samples from each of our voice artists on our website, arranged by language, gender, and tone.
Interested in receiving a free no-obligation quotation? Visit our website to find out more.