Our Facilities

Get Quote Now
Are you looking to learn more about our industry-standard facilities?
Looking for a professional voice over recording studio with great facilities? We're not just an online service.  Voice Talent Online's operations hub in Kent, UK has the following facilities on-site:
• Top-of-the-range voice recording studio
• Audio & video edit suites
• Light and modern open-plan space
• Room to relax
• COVID precautions
Voice recording studio
A high-end, custom-built recording booth – Our recording booth has been purpose built to match our client's specific needs and has been approved and recognised for use by world class companies. Moreover, it is situated inside a secondary, insulated recording room, adding even further sound proofing, it is one of the quietest places available to record your next project.
Neumann U87 microphone – The Neumann U87 microphone is a top of the range industry standard microphone, specifcally one of the best-known studio microphones the world over.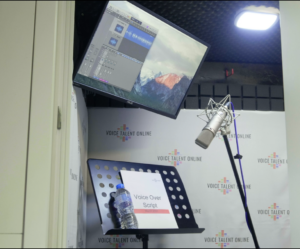 In-booth monitor screen – Our recording booth contains a ceiling-mounted, large, wide-screen, adjustable monitor screen. Therefore, it enables the recording artist to simultaneously view video footage, greatly aiding audio synchronization and – subject to talent preference – makes a great autocue.
Directing remotely – Our studio is perfectly located for London-based talent and directors. But if you would rather not travel, there's no need. Direct your voice over artist remotely – as if in person – via Microsoft Teams, Zoom, Skype, or phone patch – or something else. Whatever the client preference!
Audio & video edit suites
On-site team
We have a friendly, professional crew with lots of real-life studio expertise on-site, who will do all the recording, editing, file splitting, and quality assurance checks on your behalf. Meet the team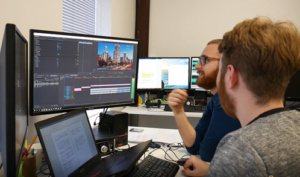 Light and modern open-plan space
Having outgrown our previous location, we relocated in March 2020 to our new, modern facilities.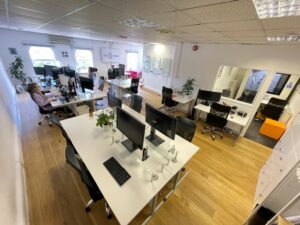 Likewise, light, comfortable, surrounded by greenery, and very well ventilated. It provides the perfect back-drop to the world-class audio-video production services we provide.
While the open-plan space aid with a seamless workflow between teams, it also enables us to provide more efficient service to our clients.
Room to relax
Last but not least, we offer free chilled drinks and a nice, comfortable chill-out area! So directors and talent alike can enjoy visiting our site and relax between takes!
COVID Precautions
Watch this short video to learn more about the COVID safety precautions in place at VTO. These are designed to make your visit as safe, relaxing and productive as possible. Or read here about how through implementing new, Covid-secure ways to work.





Absolutely fantastic! We've now used Voice Talent Online for five or six projects, and they've nailed it every single time. Truly excellent quality and service -- thanks VTO! Cheers, Matt
Hendrik Tillmann-Zorn
May 2022





Excellent job - as usual. Very good quality, extremely smooth process. Will be back soon.





Having no prior experience in obtaining third-party voiceovers, it was a completely new experience for me and luckily one that has been seamless. From my initial inquiry through to booking and receiving the final product, Voice Talent has been nothing but professional, helpful, and efficient in their service.





Quick and easy. I picked the talent from the samples they had online, sent the copy in, and in less than 48 hours, received my files. The quality of the voice files/talent was amazing for the price. I recommend using the Chat portal. Unlike most websites, the person I chatted with was very knowledgeable and walked me through the process.
Rosalynn Thornton
March 2022





Voice Talent Online has friendly, professional and responsive staff. They ensure that they provide the service exactly as outlined in a timely fashion. Have used them a couple times now and can say they have provided amazing service each time.